<-newer items | older items->
5th April 2013: Upcoming publications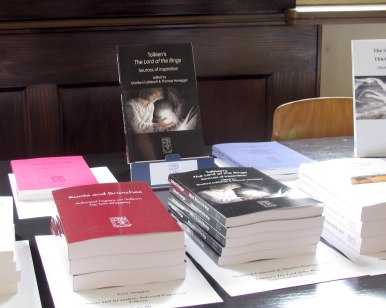 Walking Tree Publishers are currently working on the following new publications:
These books will be announced on this website as they are released.
See also our publications planned page.
A table of contents for the second of the above can be previewed below.
O, What a Tangled Web? Tolkien and Medieval Literature. A View from Poland
Table of Contents
Barbara Kowalik
Introduction: Tolkien in Poland.
A Medievalist Liaison
Joanna Kokot
"O, what a tangled web we weave".
The Lord of the Rings and the Interlacement Technique
Bartłomiej Błaszkiewicz
Orality and Literacy in Middle-earth
Justyna Brzezińska
Rohan and the Social Codes of Heroic Epic and Chivalric Romance
Maria Błaszkiewicz
TolkienĘs Queen Women in The Lord of the Rings
Barbara Kowalik
Elbereth the Star-Queen Seen in the Light of Medieval Marian Devotion
Katarzyna Blacharska
The Fallen: Milton's Satan and Tolkien's Melkor
Renata Leśniakiewicz-Drzymała
Berserkir, Bödvar Bjarki and the Dragon Fáfnir.
The Influence of Selected Medieval Icelandic Sagas on Tolkien's Works for Children
Łukasz Neubauer
'He has gone to God glory seeking': Tolkien's Critique of the Northern Courage and Rejection of the Traditional Heroic Ethos in "The Homecoming of Beorhtnoth Beorhthelm's Son"
Andrzej Wicher
What Exactly Does Tolkien Argue for in "Beowulf:
The Monsters and the Critics?" An Attempt at a Metacriticism
(to link to this announcement: http://www.walking-tree.org/news_archive.php?item=84 )
<-newer items | older items->
The most recent news items can also be viewed on the latest news page.